Sex hawkers operating at Pedro Hotel in Azikiwe Street in Mile 2, Port Harcourt City Local government area of Rivers State Thursday protested over plan by its manager to force them to attend vigil expected to hold on Thursday night.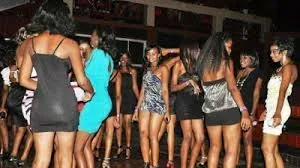 It was learnt that the sex hawkers became angry with the manager when he insisted that every occupant of the hotel must join the vigil or her room would be padlocked until the vigil is over.
The manager who did not mention his name while he was shouting on the ladies said he has been shifting the date of the vigil to accommodate the ladies' view, adding that nothing will stop him from postponing the vigil again.
He noted that the vigil was for the interest of the ladies and the business, stressing further that any lady who failed to attend the vigil will see the other side of him.
According to inquiries by The Nation from the receptionist to know the essence of the night vigil, the young girl said nobody is in support of the plan to host vigil in a brothel.
She disclosed further that the manager was approached by a pastor who now made him to believe that hosting vigil with the ladies will increase God's blessings and prosperity on the business.
She said the ladies have made their intention clear that they are not going to attend the vigil, adding that the choice of worshipping God is in the hand of the individual which cannot be forced upon.
One of the sex hawkers, who simply gave her name as Rose, said they have talk to the manager that such plan cannot work because they are in the business which they cannot leave to attend vigil.
She said they are not against vigil because sometimes some of them worship their God and also attend night vigil when it pleases them.
Rose said: "The manager is just wasting his time, we are going to see what would happen tonight, we are here for business and not for some religious patronage. By tomorrow we are going to pay our rent because we pay him every Friday of the week.
"How do we cope to meet up with our rent? If we attend night vigil tonight is he going to allow us to stay in the rooms without payment. Another question I want to ask is that are we going to leave our customers at the room who have already paid for daybreak, so it is not going to happen."